At Madison Alley, we closely monitor global investment activity in digital marketing, media and ad technology, with a special focus on the sub-sectors of mobile, social media, video/rich media, programmatic advertising and data analytics.
In our first edition of The Mad Alley 8, we recognize investors across eight categories that have distinguished themselves by their successful investments in mobile companies. These investment firms were primarily selected based on their outstanding investment returns, investment activity, and expertise in mobile.
The Mad Alley 8: Top Global Investors in Mobile was announced by CEO Michael Seidler at the OnMobile 2014 conference in Menlo Park on November 14th.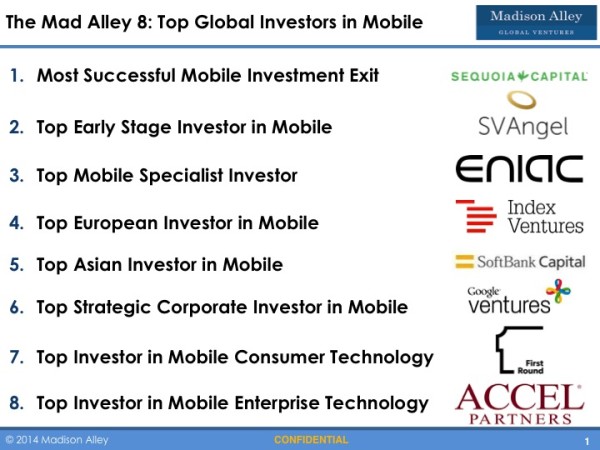 Watch the announcement at OnMobile:

The Mad Alley 8: Top Global Investors in Mobile
1. Mobile Investors with the Most Successful Exit Winner: Sequoia Capital
Sequoia Capital has had many successful mobile investments including AdMob, Airbnb, Doordash, Instagram, MobileIron, and TuneIn. Overall, Sequoia has seen great success with their mobile portfolio and has been able to successfully exit a number of their investments at stratospheric valuations, most notably WhatsApp. WhatsApp was purchased by Facebook for a staggering $19 billion. Sequoia was the only venture capital firm invested in WhatsApp, contributing a total of $58 million, which returned over $3 billion or 50 times the investment as a result of the sale.
2. Top Early Stage Investor in Mobile Winner: SV Angel
SV Angel is one of the most active seed and early stage investors with a broad mobile portfolio. Mobile investments include Quettra, a mobile advertising intelligence platform; Talkray, a mobile voice, video and messaging application; Two Tap, a universal shopping cart; Spring, a mobile shopping startup; Swiftype, a text-search company, and Snapchat, an ephemeral messaging application.
3. Top Mobile Specialist Investor Winner: Eniac Ventures
Founded in 2009, Eniac Ventures is the only early stage fund that invests exclusively in mobile companies. Its notable investments include Boxed, a discount wholesale shopping app; Glide, a video messaging app; and Vungle, a mobile video ad platform. The firm had a strong exit this year when Twitter acquired its portfolio company, mobile retargeter TapCommerce for a reported $100 million.
4. Top European Investor in Mobile Winner: Index Ventures
Index Ventures is one of the top venture firms that is actively investing across Europe and in Silicon Valley. The firm has made a number of mobile investments in companies such as Curbside, a mobile shopping app for same day pick up; Lookout, a mobile security platform company; JustPark, a mobile parking application; JuiceBox Games, a mobile game developer; Citymapper, a transportation application; Path, a private messaging application; StreetHub, a local discovery application; Flipboard, a personalized magazine application; SwiftKey, an adaptive mobile keyboard; and OpenX, an online advertising platform.
5. Top Asian Investor in Mobile Winner: SoftBank Capital
Based in Japan, telecom company SoftBank Corp. has a long history of investing in Asia and in mobile. This past September, SoftBank Corp. invested $800 million in two mobile application companies. In addition, in June 2013, SoftBank Corp. acquired wireless network Sprint for $3 billion and in August 2012, SoftBank Corp. acquired InMobi, the leading mobile advertising network in India.
Notable investments in Asia and the United States by SoftBank Capital, the investment arm of SoftBank Corp., including Celtra, a rich media mobile advertising solution provider; xAd, a global location marketplace; CrowdTwist, a multi-channel loyalty and analytics provider; Criteo, a performance advertising platform; Mobile Posse, a push messaging platform; Burstly, an application monetization platform; JNJ Mobile, a mobile commerce company; RockYou, an in-game advertising network, and RenRen, China's leading real-name social network.
6. Top Strategic Corporate Investor in Mobile Winner: Google Ventures
Google Ventures is one of the most active strategic investors in mobile. Its investments in mobile companies including Uber, the mobile ride finding application; Wearable Intelligence, developer of enterprise applications for Google Glass; Mobile Day, a mobile calling application; Amino Apps, a mobile platform for niche communities; Spring, a mobile shopping startup; and RelayRides, a car rental marketplace. Google's mobile portfolio is expansive and spans companies in consumer mobile, enterprise mobile, security, and big data.
7. Top Investor in Mobile Consumer Technology Winner: First Round Capital
First Round Capital made our list for its early investment in Uber, the company that changed forever how we hail a cab and epitomizes mobile disruption. Other mobile consumer companies that received First Round investment include Square, the company that is disrupting the payment industry, and SmartThings (acquired by Samsung), the company changing how we interact with devices in our homes.
8. Top Investor in Mobile Enterprise Technology Winner: Accel Partners
Accel Partners has made a number of mobile investments in enterprise software to lead this growing market. Notable investments include: Invoice2go, an invoicing application; Lookout, a mobile security company; Slack, a team communication platform; Docusign, an online e-signature solution; and Freshdesk, an online help desk solution. Accel's portfolio companies are changing business models and how small and medium size businesses and enterprises leverage the mobile platform.
Which VCs do you think deserve a spot on The Mad Alley 8: Top Global Investors in Mobile? We always welcome your comments.
Stay tuned as we identify and recognize leading investors across additional market segments including Video Advertising & Content Platforms and Programmatic Advertising; and also leaders by type such as Early Stage Investing, Strategic Corporate Investors, International Investors, Strategic Buyers and more.