As more video content and consumption moves online, new technologies are emerging to improve discovery, enjoyment, and delivery of digital video. Marketers are looking for new ways to reach consumers through digital video advertising, creating unique opportunities for market leaders.
According to Cisco's Visual Networking Index, by 2018, video traffic will account for 79% of all consumer Internet traffic and video on-demand traffic will double.
Our team at Madison Alley has closely monitored the investment and M&A activity in this sector for many years, studying the companies and the venture investment behind them. We have been fortunate to advise prominent companies in the digital video sector, including Ooyala, Flashtalking, EyeWonder, and Jivox, to name a few.
Through our careful observation and market activity, we have identified the investors that stand out in digital video and are recognizing these leaders in this month's edition of The Mad Alley 8. These global investors have been selected based on a variety of criteria, primarily their investment returns, investment activity, and expertise in digital video.
Please join us in congratulating these investment groups on their achievements.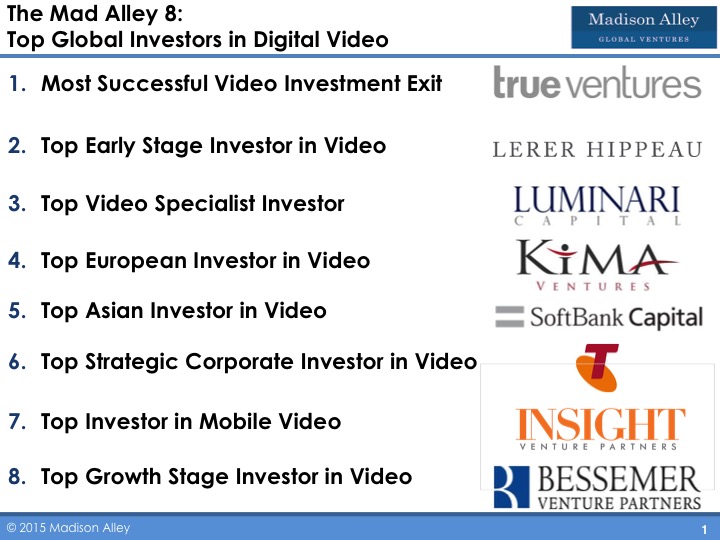 1. The Most Successful Investment in Digital Video
Winner: True Ventures
Silicon Valley-based True Ventures has invested early in a number of digital video and media companies including Neon, ShowYou and Storehouse. Most notably, True Ventures also invested in Brightroll, which was acquired by Yahoo for $640 million, the largest exit in video advertising in 2014. Brightroll's largest shareholder was True Ventures — making them our pick for most successful investment in digital video.
2. Top Early Stage Investor in Digital Video
Winner: Lerer Hippeau Ventures
Founded by digital media veterans Ken Lerer (founder of the Huffington Post) and Eric Hippeau (former CEO of the Huffington Post), Lerer Hippeau Ventures is a New York-based, seed stage venture capital firm that actively invests in startups across the digital video ecosystem. The firm invested in VHX, a direct-to-consumer video distribution platform; Tubular Labs, a video intelligence and marketing platform; and Bluefin Labs, a social TV analytics company that was acquired by Twitter in 2013.
3. Top Digital Video Specialist Investor
Winner: Luminari Capital
Recently founded VC fund Luminari Capital has not had any exits yet, but its exclusive focus on investing in startups in the video ecosystem secured the firm's place on this list. In less than two years since its formation, this Palo Alto-based firm has made investments into nine video startups, including PlutoTV, a video-on-demand platform that offers new ways to experience video content on the web; Fuisz Media, a startup that turns any video into an interactive experience; and TAPP, a collection of niche television channels for super fans.
4. Top European Investor in Digital Video
Winner: Kima Ventures
Paris-based Kima Ventures claims to be the world's most active angel investor. Not surprisingly, it has been very busy making investments in video startups. Examples of Kima's investments include a video advertising startup Vidcoin, a text to video technology company Wibbitz, and a personalized video startup Vodio.
5. Top Asian Investor in Digital Video
Winner: Softbank Capital
Affiliated with SoftBank Group, a global telecom and Internet conglomerate headquartered in Tokyo, SoftBank Capital has made a number of investments in digital video related to monetization and distribution. It was an early investor in Bluefin Labs, a social TV analytics company acquired by Twitter in 2013. SoftBank Capital also invested in Boxee, Grab Media, Ustream and other video technology providers.
6. Top Strategic Corporate Investor in Digital Video
Winner: Telstra Ventures
From investment to acquisition, Australian telco Telstra has become a major player in video distribution and monetization. In June 2012 and December 2013, Telstra Ventures led a $35 million Series E and then a $43 million Series F investment round in digital video content management, streaming, and analytics provider, Ooyala. In August of last year, Telstra Corporation acquired the remaining interest in Ooyala for $270 million. Several months later, Telstra also purchased London-based, supply-side, programmatic video platform Videoplaza.
7. Top Investor in Mobile Digital Video
Winner: Insight Venture Partners
Insight Venture Partners was the only institutional backer of AdColony, the mobile video ad network acquired by Opera Mediaworks for up to $350 million. To date, this is the largest transaction in mobile video, the fastest growing segment within mobile advertising.
8. Top Growth Stage Investor in Digital Video
Winner: Bessemer Venture Partners
Bessemer's investments in digital video have been handsomely rewarded. AOL acquired programmatic video ad exchange Adapt.tv for $405 million and Amazon paid $970 million for Twitch, a social video platform for gamers.
Which investors do you think deserve a spot on The Mad Alley 8: Top Global Investors in Video? We welcome your comments.
If you would like to discuss how Madison Alley's strategic corporate development, capital financing and M&A advisory services can help your company develop and realize premium value, please contact us at 212-724-0150 or leave a comment below..